Queues are something Indians are most familiar with than anyone else in the world. Reason? Well life here revolves more around the queues than anything else. All of us hate it indiscriminately but still it refuses to let us go – be it at bill counters, ATM machines, hospitals, cinemas, sports arenas, getting into and out of flights/trains/buses – you name it, queues are there.
Here are certain reasons I have seen, as to why and in what situations we queue up in India:-
1. OK. You are here. In a place where queueing up is mandatory. It's a bank. And there         are atleast 20 people ahead of you, waiting for their turn, and it's nearing closing time,     it's a saturday which means the next day is a holiday and you have to submit your           examination fees because it's the last day today…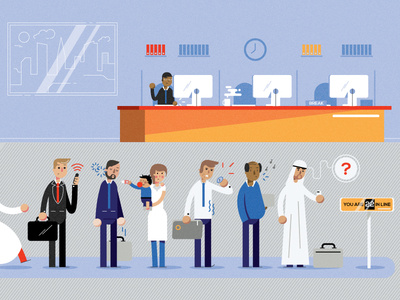 2.  Next. An Automatic Teller Machine.
A bit of flashback. Narendra Modi's "Cashless India" drive. Cancellation of all 500 and 1000 rupee notes. Issuance of new 2000 and 500 rupee notes. 100 rupee notes becoming the only legal currency for a couple of months. And the frenzy among general public to exchange all their 500 and 1000 rupee notes for 100 rupee notes. Long queues in banks became longer. ATMs crashed due excessive withdrawal of cash. You are there too in all this hullabaloo. You are smart. You waited for a few days after the cancellation of the notes hoping the crowd would reduce. Then you come across some really emergency situation where you need the treasured 100 rupee notes. You wake up early one morning and go to the nearest ATM thinking there wouldn't be much crowd this early, smiling to yourself. You reach…and you see the queue…
3.  You gulp down your breakfast, and dress hastily. You are already late. You rush out. To the railway station. You are thinking. Thinking that you'll make it if you catch the next train up to your destination. You rush to the ticket counter. You see the queue. And you are like…
4.  The booth call line. You were travelling. You got down from a bus in the midway and the bus went off. You return to find nothing except an endless road and silence. You panic. Your luggage!! You don't even have your phone network(pity!). You look out for a telephone booth. Someone passing by tells you there's one nearby. You set off immediately. Suddenly you see a queue. A really long queue. You ask the man at the last. He says it's the queue to the booth…
5. The "SALE" queue.
 You see a lot of people today. Everybody rushing. You are intrigued. Somebody says there's one great offer in a departmental store. They are giving a large discount. You are elated too. You make for it too. You reach. There's a lot of people and it's a long queue. But you decide to wait. Just as you move each step forward you smile internally.  At last you reach near the entrance. There's one man ahead of you now. But then, the lady of the store comes out and hangs a "CLOSED" tag on the door, smiles looking at your peeking face,shrugs her shoulder and walks off…
6. You're in a mega mart. Your spouse actually bored you with his/her shopping spree. You tell him/her to pay the bill once it's done. You start to walk away when he/she calls you back. Your little baby is crying. He/she asks you to go to the counter while he/she quietens the baby. You groan inside. Because you know what's coming. Another really long queue…
7. The results queue….Oh God!
At the first place you have the overwhelming thoughts(mostly negative) about your outcoming results…and on the top of it you have the entire batch to fight against before even getting to view what you've achieved…aarghh!! 
8. How can I talk about queues and forget the unforgottable queues in the characteristic festivals of India. Talking about the crowds in Durga puja all over India, I believe it beats all other queues….the only difference being the mood and sentiment. 
9.    You're sweating. Really bad. You have an urge. An urge to pee. You rush out of your office cubicle towards the washroom. Desperate. Holding your belts. You see the red sign of the washroom glowing. Means no one is in. You feel energised. You are still a bit far away. You're running now. Limping actually, can't run lest you give off now only. Oh, but what was that. 2 men are standing before the door. You panic. The pressure increases. More 3 people join. You're still a bit away from the door. 2 more men. You rush at a godly pace….and push open the door struggling with the others. You are in now. You look around. All the basins are occupied…
10.   And the last one. You are walking by one fine day. There's a queue. A small queue for a change. Really Yes!!! A small queue!!! Overwhelmed by the size you stand a bit aside and watch. After standing for a while (20mins) you hear sounds behind you. You turn. There were some 15 people queued up behind you. You are intrigued. Suddenly the man at the front looks back, and raises a cry. What was it??? Oh, didn't I tell you! People in India don't need a reason to line up or crowd at a place…
Haha so as I said Indians don't need reasons to queue up. So if you have any other reasons as to why people queue up you can always share them with me in the comments box below. Meanwhile, why don't you know a bit about "Murphy's law" in the video below…
-Love C